I.  Come and bring a friend, to a Revival Series with Message of Hope Ministries   https://www.danjarrard.com/ .
All are invited to participate by attending, praying, and inviting others. 
You will be blessed and inspired each meeting as Dan Jarrard shares Messages of Hope from the Bible. 
Dates:
April 15, 2023:  11:00 a.m. and 6:30 pm
April 16 - 19, 2023:  6:30 - 7:30 pm
Topics include: Our Greatest Need; Reconciliation; Commitment; Prayer; Praise; Evangelism
Location: Detroit Lakes Seventh-day Adventist Church, 404 Richwood Rd., Detroit Lakes, MN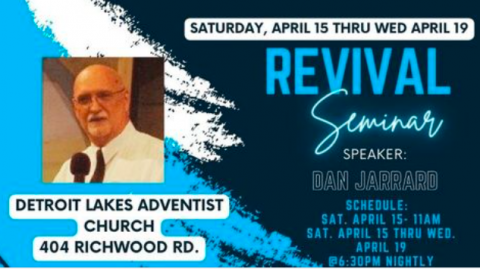 II.  Children are a gift from the Jesus!  April 22, 2023, worship hour is an extra special Baby Dedication Sabbath.   May God richly bless His little children and families as they commit to nurture their precious little one in the knowledge of the love and ways of Jesus.  May each of us support them in this important commitment.
III.    Do you have a heart for jail/prison ministries?  We invite you to join us on April 29, 2023, at 11:00 a.m. worship hour as we welcome guest speaker, Debbie Coklas,  Adventist Prison Ministries Leader.    https://www.mnsda.com/ministries/prison
IV.  Calling All Men! YOU are invited to:
Men's Retreat:  "Wounded Healers: Broken men doing great things for a great God"
Registration is open for Men's Retreat 2023!!  
Dates: April 28 - 30, 2023 at North Star Camp in Brainerd, MN.
V.  Don't miss out on the Women's Inspirational Weekend